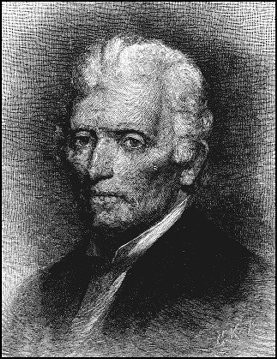 Daniel Boone, 1818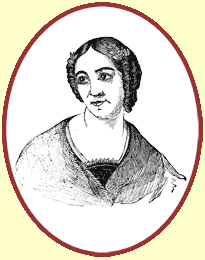 Rebecca Boone
The Legendary
Daniel Boone
1734-1820
© ® (T), 2004-2008
Daniel was born to Squire Boone (November 25, 1696 - January 2, 1765) and Sarah Jarman Morgan (1700 - 1777) in Birdsboro, Pennsylvania. His father was born to a family of Quakers in Devonshire, England. Squire Boone immigrated to Pennsylvania in early 1713 along with his older siblings George Boone and Sarah Boone. The rest of the family joined them on September 19 (old style)/September 30 (new style), 1717. Squire settled in Abington Township, Montgomery County, PA but then moved to Lower Gwynedd Township, PA. There he met Sarah Morgan, daughter to a family of Quakers from Wales. They married on October 4, 1720. The couple eventually moved to Chalfont, Berks County, PA. By 1730, they were able to purchase their own 250 acres (1 km˛) of land in Homestead, PA. Squire Boone and Sarah Morgan had a total of twelve children, listed below.
Daniel received no formal education of any type, and was trained as a farmer, blacksmith and weaver. On December 31, 1747, Israel Boone married Mary S. Wharton who was not a Quaker. The marriage was allowed by Squire Boone himself. This was a scandal for the local Quaker community who called the Boones to repentance. Squire continued to support the marriage. As a result the Quakers severed ties with the Boones in 1748, as did the entire Boone Family with the Society of Friends, and converted to Roman Catholic. (From Wikipedia, the free encyclopedia)
(Maternal Great (X7) Uncle-Aunt

GENERATION-XII
Col. Daniel BOONE/Rebecca BRYAN
Husband: Col. Daniel BOONE
Born: 8-22-1734 at: Exeter Township, Berks Co., PA
Married: 14 Aug 1756 at: Yakin Co., NC
Died: Sep. 26, 1820 at: Charette Village, St. Charles Co., MO
Re-Buried in Frankfort, Kentucky, abt: 1845
Father: Squire BOONE
Mother: Sarah MORGAN
Wife: Rebecca BRYAN
Born: 4 Jan 1739
at: Winchester Co., VA
Died: 18 Mar 1813
at: Warren, St. Charles Co., MO
Re-Buried in Frankfort, Kentucky, abt: 1845
Father: Joseph BRYAN
Mother: Alee (Aylee) LINVILLE
Spouses: Col. Daniel BOONE
CHILDREN: 10
Name: James BOONE
Born: 3 May 1757 at: Davis Co., NC
Died: 10 Oct 1773 at: Kentucky
Spouses: NOT MARRIED
(James Boone, age 16 Died in Indian attack,
near Fort Boonesborough, KY, on Oct. 10, 1773)
Name: Susannah BOONE
Born: 2 Nov 1758 at: Culpeper Co., VA
Married: Mar 1775 at: Rowan Co., NC
Died: 19 Oct 1800 at: Saint Charles Co., MO
Spouses: Capt. William HAYS
Name: Israel (Frank) BOONE
Born: 25 Jan 1759 at: Rowan Co., NC
Married: at: UNKNOWN
Died: 19 Aug 1782 at: Blue Licks, Clark Co., KY
Spouses: Milly Callaway
Name: Jemima BOONE
Born: 4 Oct 1762 at: Culpeper Co., VA
Married: 1779 at: UNKNOWN
Died: 30 Aug 1834 at: Montgomery Co., MO
Spouses: Flanders Callaway
Name: Lavina BOONE
Born: 23 Mar 1766 at: Rowan Co., NC
Married: ABT 1785 at: Kentucky
Died: 6 Apr 1802 at: Clark Co., MO
Spouses: Joseph SCHOLL
Name: Rebecca BOONE
Born: 26 May 1768 at: Rowan Co., NC
Married: 1788 at: Kentucky
Died: 14 Jul 1805 at: Clark Co., KY
Spouses: Phillip GOE
Name: Daniel Morgan BOONE
Born: 23 Dec 1769 at: Beaver Creek, Rowan Co., NC
Married: 2 Mar 1800
at: Saint Charles, Saint Charles Co., MO
Died: 13 Jul 1839 at: Jackson Co., MO
Spouses: Sarah Griffin LEWIS
Name: Judge Jesse Bryan BOONE
Born: 23 May 1773
at: Rowan Co., NC
Married: Sep 1790
at: Point Pleasant, Mason Co., WV
Died: 22 Dec 1820
at: Saint Louis, Saint Louis Co., MO
Spouses: Chloe VAN BIBBER
Name: William BOONE
Born: 1775
at: UNKNOWN
Died: UNKNOWN at: UNKNOWN
Spouses: UNKNOWN
Name: Col. Nathan BOONE
Born: 2 Mar 1781
at: Fayette Co., KY
Married: 26 Sep 1799
at: Point Pleasant, Mason Co., WV
Died: 16 Oct 1856
at: Greene Co., MO
Spouses: Olive VAN BIBBER
Ancestry History of Daniel Boone
Paternal:
Daniel is an eighth-generation descendant of Sir John de Bohun III
(born ca. 1433) and his wife Avelina de Ros, daughter of Robert de
Ros, 1st Baron de Ros and Isabel D'Albini. He is a seventh-generation
descendant of an elder Geoffrey Bohn (1450 - May 7, 1472) and his
wife Petrolina de Arderne. He is an sixth-generation descedant of
Geoffrey Bohn II (1471 - 1530) and Anne Magerly, daughter of Piers
Magerly. He is a fifth-generation descedant of Gregory Bohun (1517-
1589) and Constance Comyn. Gregory was born in Gwynned and was
reportedly vassal to an Earl of Devon. His paternal great-great-
grandparents were George Boone I (c. 1625 - 1701 and Ann
Fallace (c. 1615 - 1709). Ann was daughter to a Walter Fallace.
George isa descedant of the Bohun family.
His paternal great-grandparents were George Boone II
(November 17, 1646 - 1706) and Sarah Mary Uppey (c. 1640-
1720). George II was a blacksmith.
His paternal grandparents were George Boone III (1666 - 1744) and
Mary Milton Maugridge (1669 - 1740). They were parents to nine
children. George III was a weaver.
Maternal
His maternal great-great-grandfather Edward Morgan, 2nd Baronet Of Llantarnam (a village in South Wales), was son to William Morgan, 1st Baronet Of Llantarnam and Lady Frances Somerset, a reported third daughter of Edward Somerset, 4th Earl of Worcester and Elizabeth Hastings. His maternal great-grandfather James Morgan, 4th Baronet Of Llantarnam, was son to Edward Morgan, 2nd Baronet of Llantarnam (1562 - June 24, 1653) and Mary Dorothy Englefield, daughter of Sir Francis Englefield, Bart., and Jane Browne. His maternal grandparents were Edward Morgan and Elizabeth Jarman. Edward has been suspected as a (probably illegitimate) son of Sir James Morgan, 4th Baronet Of Llantarnam. Sir James is otherwise known to have died with no legitimate male descedants. His title became forfeit following his death. Elizabeth was daughter to John Jarman, a Welsh Quaker and early settler of Pennsylvania.
(From Wikipedia, the free encyclopedia)
The Folklore of Daniel Boone
The many anecdotes of Boone folklore are recorded:
His rifle was a Kentucky Long Rifle he named "Tick-Licker".
He wore a coonskin hat and buckskin clothes with fringed leather trim.
History claims that Daniel hated the Coonskin hat that he wore.
He never admitted to being lost; however, he once reported that he was
"confused for several weeks."
History claims Daniel Boone couldn't read nor could he write.
History also claims that Daniel "Boone" spelled his last name without the "e" on the end of Boone, as being "BOON".
However proof exists that Daniel did sign his name as "Boone"
He was captured by the Chief Black Fish of the Shawnee, but escaped when he learned of a British and Indian plot to attack Fort Boonesborough. He rallied the settlers and successfully repelled a 10 day siege of Fort Boonesborough.
Folklore has it when he first met his wife Rebecca, he thought she was a deer in the dark woods, but couldn't shoot her because he never saw a deer with blue eyes before. He tracked her to her home and was smitten when he saw her. He continued to follow her around until she consented to marry him.
Daniel claimed he once killed a Yahoo, a hairy giant. The publication of The Adventures of Colonel Daniel Boon* in 1784 by John Filson immortalized Boone the frontiersman as an American legend and a true folk hero forever.
updated: Nov. 04, 2009